Our above-ground pool kits are the perfect way to add a pool to your yard.
As summer approaches, more and more people want to go swimming. Some people choose to swim at local community pools, while others are lucky enough to have private pools in their own backyards. In our experience here at Crystal Clear Pool & Spas, many people would prefer to have their own private pools, but not everyone wants to go through the trouble of having an in-ground pool installed.
Serena Above Ground Pool (Round)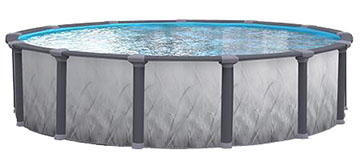 Fortunately, our team offers the perfect solution in the form of our above-ground pool kits. These kits contain everything you need to set up an above-ground pool, including the pool walls, ladder, pump, skimmer, and much more. They can also be set up much more quickly and easily than an in-ground pool, so you can start swimming right away.
Our above-ground pool kits are designed to enhance your backyard enjoyment, and they allow you to spend quality time relaxing with your family and friends. In addition, our above-ground pools integrate state-of-the-art technology with current design trends, creating pools that are both functional and beautiful. If you are interested in adding an above-ground pool to your yard, simply contact our team—we'll provide the equipment and take care of the installation services for you.
Our team is proud to serve the community in Burlington, North Carolina, and we want to help you add the perfect pool to your property. If you are interested in learning more about our above-ground pool kits, we encourage you to give us a call today.
---
At Crystal Clear Pool & Spas, we offer above-ground pool kits for those in Burlington, Chapel Hill, Durham, Efland, Elon, Graham, Gibsonville, Hillsborough, Mebane, Snow Camp, Swepsonville, Whitsett, and Guilford County, North Carolina.